In warm water oceans, I like to swim out past the breakers, float on my back, and fall asleep.
I put myself through grad school buying cars for people who were intimidated by, or just didn't want to deal with, pushy car salesmen.
As a child, like the character Taylor in my novel, I truly believed kids came from wolves, that children, dogs, and puppies were all one species, and adult humans quite another. I've never quite recovered from the shock.
I once jumped into a wild winter sea off the coast of Big Sur to rescue a friend and her dog, knowing I would die. But I didn't, and we all made it out alive.
For years after I survived being swept out to sea in Big Sur while rescuing a friend and her dog, I would have random people all over the world come up to me and tell me about their near drowning experiences. Or I'd be swimming under a waterfall in Kauai or off the coast of Mexico and someone would call out to me to save them. Complete strangers, but somehow they knew. Fortunately, that doesn't happen anymore.
I used to ride freight trains as a kid. Last year, heading down to Portland from Seattle, I rode inside the train car like a regular passenger for the first time in 50 years. Very warm and comfy, though the view wasn't anywhere near as nice as when you're laying out on an open piggy back car with nothing but sky above and scenery hurtling by on both sides with no walls, windows or guard rails to block the view.
I once stole a pair of cowboy books and faked a Texas drawl to get a job working on a horse ranch. Fell in love with horses and still have a southern twang that people can't figure out coming from a girl raised in L.A.
As I child I used to sleep in trees.
I live with two hooligan adolescent German Shepherd rescue dogs, and a one-eyed rescue kitty named Uma.
I barely passed high school English classes, and didn't start college until I was almost 40 years old, so terrified I threw up in the bushes outside my first classroom. Now I'm a university professor with tenure. Go figure!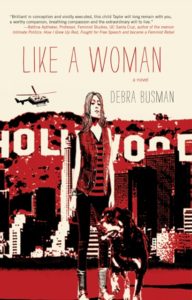 I teach writing as an act of resistance and empowerment at a university that used to be an army base and is still filled with abandoned barracks, ghost soldiers, and unexploded ordnance.
I've worked as a ranch hand, janitor, typesetter, press operator, newspaper deliverer, waitress, bartender, landscaper, secretary, factory worker, and assistant director for a non-profit prisoner advocacy program.
reads @ Elliott Bay Book Company
Wed. June 24th
Her interview with March Twisdale,
on Prose, Poetry & Purpose
11am on Sat. & Sun. on 101.9FM KVSH
or listenable 24/7 here: