When you live on an island…interesting customs develop. Take Iceland, for example. 
How many people live in Iceland? Keep thinking on it…I'll announce the answer at the bottom.
As we all know, island living is unique. It generates a closer community (huge, watery moats tend to have this effect)…it attracts independent-minded folks (ditto)…and we really get the necessity of supporting your own. Whether you want to survive the Big One or whether you just want a decent array of businesses to shop at on-island, we need each other. 
AND, when you do something really wrong, people take it more personally. On my home island of Vashon, for example, you're not just some person in Washington State who's a jerk…you're one of my 10,000 neighbors who is acting like a jerk. That intimacy hits closer to home and elicits a stronger reaction.
So, why Iceland did so WELL during the Financial Crisis of 2008 (and counting)? Partly, it relates to my question above and…here's your answer: there are roughly 323,000 people in Iceland. That is HALF the population of Seattle. Think about that for a minute. 
Imagine living in a country that is 1/2 the population of Seattle and finding out that some banking idiots were screwing you ALL over for their own excessive greed? You can BET those idiots would land themselves in jail in a jiffy – which is exactly what happened and largely WHY Iceland emerged far less damaged from a Global Crisis that is still haunting the rest of the world.
On an island (whether you have 10,000 or 323,000 neighbors), it's far more difficult to hide your wrong-doing AND accountability for one's actions is higher. This is GOOD!
And, there's something else that's really good about Iceland:
Iceland's Jólabókaflóð: The Christmas Book Flood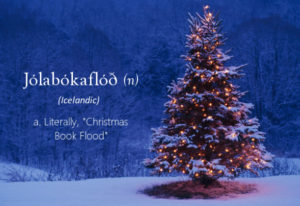 "Iceland is said to produce the most books per capita anywhere in the world. The average print run here is 2,000 copies for a commercial title, with as much as 60-70% of all books being sold during the Christmas season. Publishers produce a holiday book catalog that goes to every home in the country and giving books for the holidays is a tradition that dates back to the period of austerity following World War II when imports were severely limited. Books were one gift that you could give that wouldn't break the bank."
So, this is my last FB post until I return from my writing retreat in Canada. When I get back, I'm going to be talking with local authors, the Vashon Writers' Office, The Steady & True Localvore Lit Group @ our Farmer's Market, and Vashon Bookshop about bringing
Iceland's Jólabókaflóð
to our island!
After all, what's better than a book? They can inspire, heal, entertain, guide, educate, inform, enlighten, and otherwise brighten one's day or one's life…they come in every shape and size and cover every subject a person can care about…they can be shared and re-read and passed on…and, if thick enough, they can even be a doorstop! 
Long story short…can you think of a better 
Winter Holiday Gift-Giving Tradition 
for my island or your community?