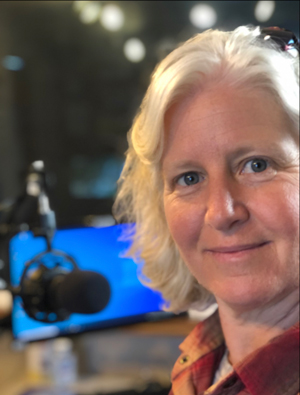 We are the creators of this planet's future. Human endeavors are "narrative realized," which is why stories matter so much.
If you described March Twisdale with two words, they would be resilient and positive. Unfortunately, society teaches narratives that are often disempowering and consumed with fear or rationalizations. Yes, we can change this. But will we?
In 2021-2022, March is thrilled to focus her radio show – Prose, Poetry & Purpose – on currently publishing women authors of fiction. When the real world fails us, great characters can give us the strength to believe in ourselves. Perseverance is catching!
March's own fiction includes a novel series about a young woman who finds her inner strength and refuses to give up despite the odds, and a story told in flash fiction vignettes, where the question "what is happening?" soon becomes "who will survive?" as two brothers face a changed world filled with humans under pressure. 
March Twisdale lives on an island in the Salish Sea with her family.